---
---
Kind of sad that Elvis has fallen into the way overpriced category for his concert tickets. Wasn't it just a few years ago that you could see Elvis for $50?
This morning you've got time for a hot, home-cooked breakfast! Delicious and piping hot in only 3 microwave minutes.
---
Posts: 2714
Joined: Sat Jun 14, 2003 9:41 pm
Location: Inside the Pocket of a Clown
$80 for the cheap seats - yikes!
Everyone just needs to fuckin' relax. Smoke more weed, the world is ending.
---
Posts: 2501
Joined: Tue Jun 03, 2003 5:24 pm
Location: Dublin, Ireland
Contact:
---
http://www.canada.com/vancouversun/news ... 616373b768
Costello jazzes up his act for festival
Veteran new-waver teams up with New Orleans legend Allen Toussaint tonight
John Mackie
Vancouver Sun
Monday, June 26, 2006
Elvis is alive and well and living in Vancouver and Nanaimo, part of the time.

At Christmas he was spotted walking around downtown wearing a toque. Last year he was at the Vogue Theatre checking out British comic Eddie Izzard. He's even been seen buying furniture on Granville Island with his wife, and paying by cheque, in the English fashion.
And tonight at 8 p.m., Elvis Costello will be appearing at the Orpheum Theatre with his latest musical partner, New Orleans great Allen Toussaint, as part of the TD Canada Trust Vancouver International Jazz Festival.
Costello and Toussaint are touring with an 11-piece band in support of their new album, The River In Reverse.
To the casual observer it might seem an odd couple: the erstwhile king of the new wave and the legendary composer and producer of countless New Orleans classics, from Ernie K. Doe's Mother-in-Law to Lee Dorsey's Working In a Coal Mine and Chris Kenner's I Like It Like That.
But Costello has been a fan of Toussaint's music for years, and even collaborated with Toussaint a couple of times in the past -- Toussaint produced Costello's version of Yoko Ono's Walking On Thin Ice.
The new collaboration was sparked by the tragedy of Hurricane Katrina. Costello loved New Orleans -- it was one of the first cities he played in North America, and he felt a deep connection to the city and its music.
Watching the devastation unfold on TV while he was on holiday in B.C. with his wife Diana Krall, Costello felt he had to do something. Scheduled to play Seattle's Bumbershoot Festival on the Labour Day weekend, he paid tribute to the Crescent City by performing Toussaint's powerful ballad of social justice, Freedom for the Stallion.
"I couldn't think of any song of my own that had any better meaning," Costello said.
Toussaint was unaware of this at the time: he was just trying to stay alive. Like many lifelong New Orleans residents, the 68-year-old had been through many hurricanes. So he decided to ride out the storm in the city rather than leaving, although he did move to the fourth floor of a hotel.
He survived the hurricane just fine, but when the levees broke and much of the city was flooded, Toussaint went to New York. There he met Costello at a gig, which led to them performing together at a series of New Orleans benefits.
Costello broached the idea of recording some of Toussaint's songs, which led to them writing new ones. They started recording in Los Angeles with producer Joe Henry, but midway through the session moved to New Orleans, which was still under martial law. It was an eerie time: normally the streets of New Orleans are teeming with life, but post-Katrina, the city was virtually deserted.
The vibe is captured in the opening lines to the Costello/Toussaint song Ascension Day: "Not a soul was stirring/Not a bird singing, at least not within my hearing/I was five minutes past caring/Standing in the road just staring."
But the song was written before they went to New Orleans. One day Toussaint -- one of the greatest New Orleans-style piano players ever -- played Costello Tipitina, a classic by another New Orleans legend, Professor Longhair. This inspired Costello to write a lyric. Toussaint rewrote Tipitina into a minor-key ballad, and they were off to the races.
Ascension Day is one of five songs Costello and Toussaint wrote together for the album. Costello wrote the title track by himself, and there are seven covers of old Toussaint songs.
Rather than cover the hits, though, Costello chose to go for relatively obscure songs. Toussaint was surprised at some of the choices.
"It was sort of alarming, because I realized Elvis knows more songs that I've written than I do," Toussaint told the Chicago Tribune.
"I was totally surprised by how much Elvis knew about my music. He went for songs that weren't the most popular; instead he went for the B, C, D and F sides. But when Elvis sang them, he gave them an A-side performance."
On both the album and tour, Costello's band the Imposters is supplemented by Toussaint's Crescent City horn section, as well as guitarist Anthony "AB" Brown.
The show promises to be unique. Toussaint has provided new arrangements for several Costello songs, and Costello and Toussaint have been doing all sorts of Toussaint songs that aren't on the album, such as What Do You Want The Girl To Do, Brickyard Blues and Working In A Coalmine. Toussaint also plays tribute to his roots by doing a Professor Longhair medley that includes Tipitina.
Be prepared for a long evening of entertainment: the shows are running to 2 1/2 hours.
jmackie@png.canwest.com 604-605-2126
---
http://www.canada.com/vancouversun/news ... 78e866ea07
Veteran new wave legend Elvis Costello performs at The Orpheum.
Photograph by : Peter Battistoni, Vancouver Sun
Pairing offers surging, soaring intensity
Costello and Toussaint stretch their songbook
Greg Buium
Vancouver Sun
Tuesday, June 27, 2006
Elvis Costello and the Imposters featuring the piano and songs of Allen Toussaint
The TD Canada Trust Vancouver International Jazz Festival
Orpheum Theatre, June 26
- - -
If you bundled together all of the recent benefits for the city of New Orleans very few could rival the sobering, shimmering, ecstatic River in Reverse, the wonder-stroke union of Elvis Costello and Allen Toussaint, which arrived in Canada for the first time Monday night at the Orpheum.
The pairing of Costello and Toussaint, the fabled New Orleans singer, songwriter and pianist, for the first time since 1989, wasn't ever meant to be a minor operation. They matched Costello's band, the Imposters, with Toussaint's Crescent City Horns, plus his guitarist Anthony Brown.
Together, 10 men mounted the stage in a night of surging, soaring intensity. The River in Reverse, their recent CD, was only the starting point: the scope and substance of the night stretched back to old-time New Orleans and up into huge swaths of Costello's own, multifaceted songbook.
Indeed, the sometime British Columbian walked out with his three-piece -- organist Steve Nieve, bassist Davey Faragher, drummer Peter Thomas -- and tore into (What's So Funny 'Bout) Peace, Love and Understanding: a fabulous, muddy mix that turned far more precise as the horns arrived and the night progressed.
"Congratulations, dad!" someone yelled out. "A new baby!" shouted another, noting the news that his wife, Diana Krall, is expecting a child in December.
Costello hesitated, then looked at his watch.
"Does this make me Canadian, then?" he said to wild applause.
Costello was certainly centre stage all night, retelling the story of the project, and the first time he and Toussaint played together again, just after Hurricane Katrina, at a Lincoln Center benefit, before going into a duet on Freedom for the Stallion.
There was so much to watch, and listen to. Costello's own inspired, chainsaw rhythm guitar playing, trombonist Sam Williams's towering solo turns, and his moonwalk.
And there was of course Toussaint himself.
"How come you sing all the vocals on this record, you big-headed swine," Costello recalled someone asking him, before explaining that Toussaint was just too "self-effacing."
This late review went to press before the end of Monday's concert.
gbuium@yahoo.com
http://motherwoman.blogspot.com/2006/06 ... aboot.html
Tuesday, June 27, 2006
Oot and Aboot
The heavily-pregnant Mo and I attended a local venue to watch and listen to Elvis Costello, Allen Toussaint,
and their band tonight. We left e with Mo's folks- a quick word about the mother-in-law. Yesterday Mo went over there for lunch and there was no food. Anyway, we entrusted the care of our little one to this woman and her husband, who for some reason laughs at everything e does (Look at that, she stuck a fork in my left gonad, heh heh. What a wiseacre!) because we do not fear social services even though we live on the east side of town. We returned to some unusual information regarding our child's welfare in this exceedingly hot (by our rather low standards for hot) weather which, as best I can tell from what this woman had to tell me, caused my daughter's hair to sweat. I don't know if this hair-sweating thing is a condition in the first instance, or a condition I need worry about, and frankly, I think the woman made it up. Maybe I should have listened to her more intently than I did. I kind of stopped after she said "hello" and now I am sorry. What if e starts to perspire from her eyelashes?
But to the show. I am as ignorant of New Orleans music as I am of nearly everything. I knew of Toussaint from Little Feat and I love the Meters who, despite the fact they couldn't really write a bridge and covered "Wichita Lineman", fucking rocked. They oozed groove and they refuse the ointment. I was ready to see this band. (I will point out, for those who may be interested in reading essays on New Orleans music history, or the invention of the piano, which is Mr. Toussaint's favoured instrument, that if you care about stuff, you already know more about it than me, and I am better served by typing my stream of barely consciousness herein than I would be in offering an unreadable and dull precis of someone else's research on alluvial soil, human intervention and the management of water levels, racial politics, syncopation, and Professor Longhair. If you want to read boring blogs about what I read somewhere, fuck off. If you want to read boring blogs about what I did or didn't do, and maybe what I think I remember thinking about it while it was happening, or what I am thinking now about what happened then when I wasn't thinking about it- you have come to the right place.)

Elvis, as he is known, is starting to resemble his namesake in the girth department. You may infer I am not a fan. I lost interest after "Shipbuilding". I was not that interested before then but I didn't want to go to Chelsea either. I still haven't gone. The thing is, why did Elvis need to put so many words in each line, and so many lines in each verse, and so many verses in each song? If you know the answer, please keep it to yourself. That is a rhetorical question. I am using for some reason, not entirely clear to me, but it has to do with this writng, and, and I don't want an answer. In any event, too many words, that was the problem. (Pot. Kettle. Black.) And what's the point in rallying behind some sweaty little white guy with glasses when he becomes reasonably popular? I will never relate to that. Bring me Andy Summers on a plate.

So, Elvis, Allen, a blended band (2/3 of the Attractions and Toussaint's band) earned their wage tonight. They were sweating out the groves. They slew the audience. They slew puppies and festooned the Orpheum with their still-steaming entrails. They read the livers and no, the Canucks will not win the Stanley Cup this year. I highly recommend this act. On the not-musical front, there were some jibes directed the Shrub, which likely endeared Elvis to the generally liberal, generally isolationaist Canadian audience, but in the midst of a speech about the disaster wrought by man and nature in New Orleans the songer silenced the laughing audience, saying: Laughter is the death of satire (or words to that effect. Maybe he said "I have a flat tire", or "I have jello in my briefs" I don't know, but he said it and it sure was funny. If only I could remember it. In any event, that won me over to the chubby little guy, with his weird little black cowboy suit, which was not very slimming at all).

On the musical front, the band was hot. The arrangements were hot. I was hot. Where is the a/c? Why did I wear latex again?
The band played this version of "Watching the Detectives" which was equal parts Elvis, Trout Mask Replica, Jackie Wilson, and Lynton Kwesi Johnson.
Unreal. I'd try to describe coherently it but for the prohibition I have against people who are not musicians trying to evoke or describe music. For that matter, I don't want some musician coming over here, trying to tell me why the adaggio passages invoke restlessness, or irritable bowel, or what have you. Shut up, you elitist pig, with your book-learning! Why the hell did I start this post?
Oh, yes. I went out for the night with my beautiful and heavily pregnant wife. We sat in a comfortable theatre and listened to wonderful music played with passion and intelligence to an appreciative audience. I felt our soon-to-be-born child dancing in Mo's body. I observed seat dancing manouvres undertaken by middle-aged and older men. The acid-drenched rubber chicken dance of the Deadheaded past replaced by the, I don't know, arthritic chicken dance of the RRSP set. I drove home to find our cats waiting for us on the walk, our in-laws relating some dread medical miracle regarding hair-sweat to our unlistening ears, and observed our little girl, ever increasingly her own little girl, sleeping in her bed, the sweat flooding out of her little girl hairs as she floated away... another beautiful day. Damn.
---
http://www.dianakrallfans.com/phpBB2/vi ... .php?t=881
JamieR posts -
Elvis was playing a concert with Alain Toussaint at the Vancouver International Jazz Festival last night, and somebody shouted out from the balcony congratulating him on the news.

Elvis then sang a song called

This Boy's In Love.



The concert, by the way, was totally rocking, New Orleans style. Elvis and the band played all out for nearly three hours without a break. If the place had been a dance hall, the dancing would have gone on all night! The crowd would neve have let the band get away.
---
http://www.theglobeandmail.com/servlet/ ... ent/Music/
Globe and Mail, Canada
28/06/06
JAZZ
Costello makes himself at home
J.D. CONSIDINE
The Vancouver International
Jazz Festival
In Vancouver on Sunday
and Monday
( extract)
'We want to thank you for making it a special night," Elvis Costello told a capacity crowd at Vancouver's Orpheum Theatre Monday night.
"It's good to be home."
Vancouver counts as home for Costello thanks to his wife, jazz singer and pianist Diana Krall, and part of the reason the evening was special -- apart from the tumultuous response the audience gave his marathon, 32-song set -- was the news that Costello and Krall were expecting their first child in December.
"Does that make me a Canadian now?" he joked, to yelled congratulations.
That Costello felt at home in Vancouver wasn't a surprise; that he felt at home as part of the Vancouver International Jazz Festival might be.
Despite touring with pianist and producer Allen Toussaint, as well as a horn section that occasionally soloed, nothing in his two-hour, 45-minute performance could be considered jazz.
But then, jazz is hardly the only type of music on tap at jazz festivals these days. Rock, blues, hip hop, Afro-pop -- all sorts of sounds turn up, some with no jazz connection at all.
Being married to a jazz musician gives Costello better bona fides than most.
Although emphasizing Costello's current album, a collaboration with Toussaint called The River in Reverse, the performance drew deeply from both artist's catalogues. Costello unearthed such chestnuts as Watching the Detectives, Clubland and a version of Alison that included an interpolation of Smokey Robinson's The Tracks of My Tears, while the Toussaint selections ranged from a solo piano Tipitina and Me to full-band versions of Brickyard Blues and Yes We Can Can.
Thanks to the horn arrangements (mostly by Toussaint), Costello's songs took on a mild R&B flavour, and his singing was unusually supple and expressive -- though not quite as slyly soulful as Toussaint's. Still, it was more than enough to get much of the crowd on its feet and dancing for the last third of the show.
---
http://www.straight.com/content.cfm?id=18699
Georgia Straight, Canada
June 29 '06
Jennifer Van Evra
YOU CAN HAVE too much of a good thing, as Elvis Costello and Allen Toussaint showed Monday (June 26) at the Orpheum Theatre. The new wave hero's decision to open with the Nick Lowe–penned "(What's So Funny 'Bout) Peace, Love and Understandingâ€
---
http://rafalgerszak.blogspot.com/2006/0 ... s-had.html
posted by Rafal Gerszak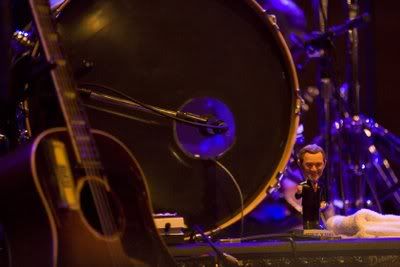 Elvis had this little George Bush toy sitting there beside his guitar I have no idea why………It was not removed when he started and I'm guessing it stayed there the whole concert (I was only allowed to shoot 2 songs and then I had to leave).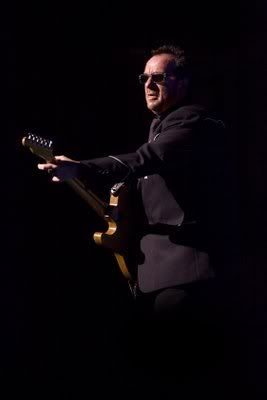 Elvis Costello performs at the Orpheum Theatre June 26, 2006 in Vancouver as one of his stops on The River in Reverse Tour 2006. ©Rafal Gerszak/Globe and Mail
------------------------------------------------------------------------------------
http://www.earfloss.com/gifts/2850058.html
Have you always wanted your favorite politicians to agree with you on everything that you have to say? Now is your chance! This comical President George W. Bush bobble head will always nod in agreement to whatever you have to say. Standing at 8 inches tall, this George W. Bush bobble head doll is the perfect addition to any bobble head collection.
---
---
Return to "Elvis Costello General Discussion"
Who is online
Users browsing this forum: Google [Bot] and 29 guests