Two early images of Elvis , from his Stiff Records days in 1977 , regularly pop up in profiles . The photographers in both cases have rarely been credited. It was partly to do with the accepted practices of the time , where staff photographers were paid a one off fee for usage and the copyright then rested with the publisher.
I've been doing a bit of hunting around and reckon I have finally established the photographers in question.
A photo site say it's original from 'Mirrorpix' and is dated August 10 1977. Bruce Thomas's tour diary from then says Elvis & The Attractions were in 'Eden' that day , Eden Studios , I presume. The Mirrorpix site has confirmed that this photo was taken by
Bill Rowntree
. A New Zealand born photographer , his work seems to have mainly appeared in the Daily Mirror. He now seems to be retired. This 2010 news report is the most recent reference I can find to him -
http://www.courier.co.uk/snapper-s-righ ... story.html
Bill Rowntree also took these occasionally seen pics., clearly from the same session
http://www.lebrecht.co.uk/search?s=rowntree+costello
http://www.brucethomas.co.uk/?p=1961
Elvis is wearing the same shirt in this photo -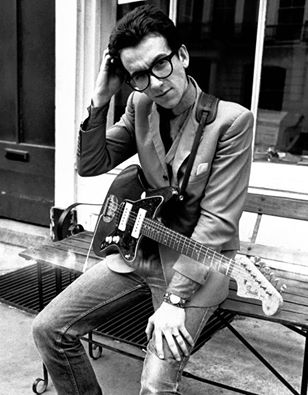 Outside the Stiff Offices.
' PHOTO: HULTON-DEUTSCH COLLECTION/CORBIS ' is all that most 'net sources say about this. Yesterday a fan in Chicago found a magazine from c. 2001 which credited it to
Richard Young
. He took it , as confirmed today via Twitter. In 1977 he worked for
Ritz
magazine.
https://twitter.com/RichardYoung110/sta ... 6259571712
Richard is still taking photographs
http://www.richardyoungonline.com/