Posts: 10603
Joined: Wed Jun 11, 2003 6:44 am
Location: In a very fashionable hovel
I'm surprised this has been missed. It's now 10 years from the first proper Imposters gig.
John, you're slipping
international laughing stock...
---
Sorry! Here's some stuff hasn't been transferred to the wiki page yet ; I'll have a look at my cuting folder for more stuff later.
2002-04-15: Amsterdam, Paradiso Club
Elvis Costello with the Imposters
- Lorenzo
Accidents Will Happen
Waiting For The End Of The World
45
Spooky Girlfriend
(I Don't Want To Go To) Chelsea
Dust 2
15 Petals
Tart
Man Out Of Time
When I Was Cruel No. 2
I Hope You're Happy Now
Tear Off Your Own Head (It's A Doll Revolution)
Encore 1
Alibi
You Belong To Me
Pump It Up
Encore 2
Episode Of Blonde
Lipstick Vogue
I Want You
http://www.elviscostello.info/concert/0 ... 0415q.html
Review of concert from 2002-04-15: Amsterdam, Paradiso Club - with Imposters
- Joyce Slavik
Just a quickie before a brief nap and heading to the airport. Great show tonight. It seemed short but did go for 90 minutes. The lister crowd headed up the line in the cold for a two-hour wait. We hardly needed to since most people seemed to rush for the seats up in the balcony. Amsterdam played for about 1/2 hours and Elvis started a few minutes before 8:30pm. Looked good - all black, shirt untucked. I liked his shoe boots. I think Alfonso will be typing up the setlist so I'll give my highlights.
The band sounded very tight on the old stuff. Davey Faragher on bass - great! I love bass and he was doing some good work along with the occasional backup vocal. Steve sounded good but a bit restrained. Where I was standing (directly in spittle range underneath Elvis) I couldn't see him at all. Just the occasional flopping of wild hair. I could see Pete directly behind Elvis but he wasn't looking around too much. He was very focused on what Elvis was doing. Funnily enough, the pre show music was mainly the *other* Elvis. funny. Alfonso, Robin (Alfonso's wife), Nick, Wouter and I were up front.
Highlights in a nutshell: End of the World, 15 Petals, When I was cruel 2, I hope you're happy now, Doll Revolution, You Belong to Me. Big huge highlights: Episode of Blonde (I love this song anyway but it was
truly outstanding live. Elvis seemed to be having sooo much fun with it), I Want You (a wonderful version). I really liked the live version of 15 Petals. He started out by saying he was about to sing a love song, sang a
little bit of "She" and then said something like "I'm kidding. I'm through with that shit!" Big applause. Very funny. 45 was good but he screwed up the lyrics and combined perhaps 3 verses into a few lines. I always enjoy seeing how he works his way out of that sort of thing. Dust 2 and Dust were combined and were listed on the setlist as "Dust 2 dust". Funny. The setlist was all typed and had EC's guitar listed next to each song. My Little Blue Window were played at the soundcheck (shades of listening at the door with Patsy and dweil at the Tabernacle in Atlanta) but we didn't get that today. Another hightlight: Lipstick Vogue.
We were dancing about but the couple next to us kept giving us stoic looks. I think Elvis preferred people to be having fun! Spooky Girlfriend was good but a little fast I thought. WIWC (not listed as 2 on the setlist) was weird because Elvis was playing with his new techno gadgety toy and the band didn't seem to know what to do. Doll Revolution went over fantastic live. Pump It Up - good but yawn. Guitars mentioned on setlist: Jazzmaster, Magnatone (I think this is the one that still has the pricetag), Gibson 160E, Baritone. I know nothing about guitars so there ya have it. I think he quit after one hour and came back for two encores. The crowd was insane for a long time in between encores (aforementioned stoic couple didn't appreciate my loud wolf whistles but then I didn't appreciate them smoking). It was a great rocking show. I'm expecting tomorrow ( Astoria, London) to be pretty similar with probably a different set of encores. Please don't take out Episode of Blonde though! Elvis did his usually scoping out and grinning at the audience. I just love that. Great hanging out with Alfonso, Robin and Nick.
---
Posts: 10603
Joined: Wed Jun 11, 2003 6:44 am
Location: In a very fashionable hovel
The Astoria show was great. Unfortunately there won't be any reviews of that show on this reincarnation of the board.

I clearly remember seeing Elvis with sulky lad at the Virgin Megastore with Elvis doing a 4 song set, buying 2 copies of When I Was Cruel (and getting one signed for Mikeh), having my picture taken with Elvis, watching the show start with My little blue window, and then having a great chat afterwards, particularly with Davey.

Happy days (as they have been every time I've seen the Imposters since).
international laughing stock...
---
Posts: 2826
Joined: Thu Aug 21, 2003 2:57 pm
---
Posts: 10603
Joined: Wed Jun 11, 2003 6:44 am
Location: In a very fashionable hovel
Ah, but they weren't called the Imposters. In fact the bootleg from Meltdown deems them as the "almost Attractions"!
Pedantry pedantry
international laughing stock...
---
Posts: 3813
Joined: Wed Jul 12, 2006 2:27 pm
this is MUCH more accurate ANCT!. i saw them for the first time at a couple NYC promo appearances in APRIL 2002!!!
---
Congrats to Davey for tenth with the band, great addition.
---
My rummage through my cuttings folder from 2002 told me a few things. It's in a mess for a start. '02 was when this whole 'net thing as a info. source really started kicking in and I was less likely to keep paper copies of stuff. A certain amount got posted on some fan sites. Until I get a chance to sit down and tidy it up all I can offer is this photo from the Evening Standard from the Astoria show.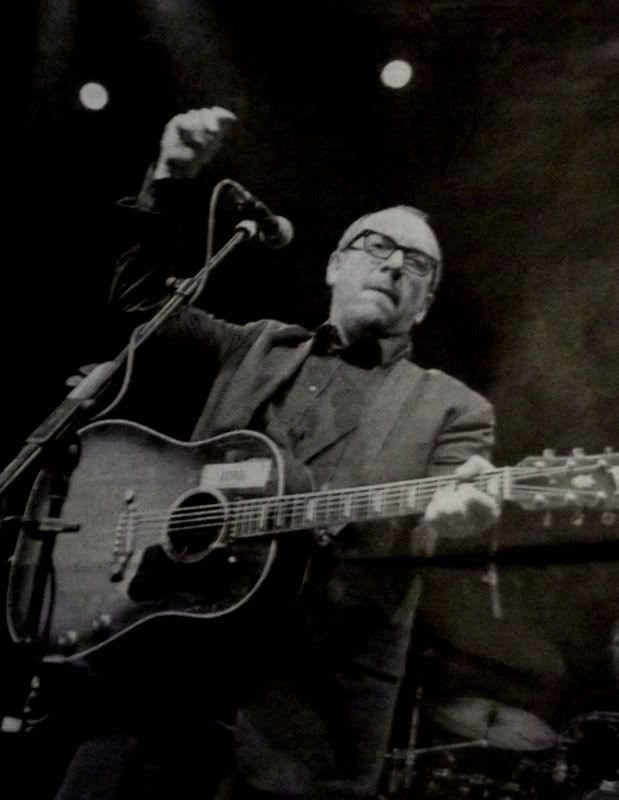 The Paradiso show is , of course, of more interest as regards the first outing of The Imposters under that name etc. I'm going to e-mail a few people who were at those shows and see if they have some photos that have not been digitised etc. More as I get it!
---
I first saw the Imposters at the tail end of Elvis's Meltdown gig that year, the main portion of which consisted of Elvis on his own playing around with samples on lesser celebrated old songs and as yet unreleased WIWC material which left my wife convinced the great man was having a public mid life breakdown. The Imposters were the surprise encore act, tearing through mainly vintage Attractions material as I recall. The surprise was somewhat spoiled by there being no stage curtain at the South Bank so we all saw the band's kit being revealed from behind 'open plan office' type dividers - not quite as rock'n'roll as the Attractions encore arrival at Glastonbury that I've heard about from legends of yore: a curtain falling to reveal them at the opening chord on the word 'too' at the end of the first line of I'll bet everyone knows which song.

(Aside: I met a couple in the queue for the Astoria who'd had to leave the Meltdown gig before the encore to get the last train home, which they were peeved about I can tell you...)

Now, Davey; smashing chap, mate of Pete's, great bassist and backing vocalist but IMHO not as full of fire and bravura inventiveness as Pete or Steve...or Bruce. In short, not quite their equal. Granted, he's had a difficult job in one sense on the Revolver concerts, as the lions share of material predates him but my quibble still stands. Perhaps this post is erring towards the 'Anyone else miss Bruce's bass playing' thread I saw on this board a while back but fact remains I feel he's not as wildly original as Bruce, evident pain in the arse though the latter was to our man (and general dull bugger from a read of his website). I'd be keen to hear other opinions on Davey's role. My evidence is my own eyes and ears, often fixed on Steve and Pete during the Revolver gigs I attended, not so much on Davey, whereas they were on Bruce during the Brutal and Beauty years (I was a late comer to the band's charms and missed the early years I'm afraid). That'll do for now.

EDIT / POSTSCRIPT - Actually I was unfair, Davey shone brightly on Spooky Girlfriend and much else at Cambridge last weekend. Be interested to hear what others feel he's brought to the band.
---
---
Return to "Elvis Costello General Discussion"
Who is online
Users browsing this forum: No registered users and 22 guests