One of England's elder statesmen of rock may have little reason to think back to shows he did in Ireland back in March 1978 . Now domiciled thousands of miles from Europe , it must all seem like another world , a fleeting moment in a frantic existence. Another venue, another performance and a dash to the airport the day after. All that remains are some ads. in a archive and a few post -ironic comments in a music weekly.
But that's enough about
Gary Glitter
, and what he might remember of his March '78 shows in the ill-fated Stardust venue ( 48 died when it burnt down in 1981) - another visitor to Dublin that month was
Elvis Costello.
It was
the start of a tour to promote
This Years Model
. The show had been mentioned in the Dublin evening 'papers -
Evening Herald , March 11 '78
Evening Press , March 11 '78
- and a Dublin music magazine -
Hot Press , March 4-17 '78
In the few days since Elvis 'n co. had returned from Canada ( having finished a North American tour with the March 7 El Mocambo show in Toronto) they had been busy with promotional activity. On March 13 they recorded a session for
John Peel's
BBC radio show -
http://www.bbc.co.uk/radio1/johnpeel/se ... scostello/
- including a version of
You Belong To Me
that was all more menacing for it's , in this version, lack of percussion.
http://www.mediafire.com/download.php?pt5nt7wmyhy
On March 15th they recorded a appearance on
BBC TV's Top Of The Pops
to promote the new single
'(I Don't Want To Go To) Chelsea'
http://www.bbc.co.uk/totp/artists/c/cos ... lsea.shtml
With
Kate Bush
at No.1 with
Wuthering Heights
,
http://www.youtube.com/watch?v=Otul8_63 ... 4A&index=5
Elvis performed alongside others from that weeks chart -
http://www.yearsofgold.org.uk/1978WEEK11MARCH18.htm
The
NME's Nick Kent
was there
http://www.elviscostello.info/wiki/index.php/New_Musical_Express,_March_18,_1978

Here in the proverbial lion's den, Costello and the
Attractions are sequestered together off to one
corner, waiting for their turn on the adjacent stage
where they will in due course perform Tip For The Top
"Chelsea", while casually observing the rest of those
similarly lucky popsters going through their paces.
Maybe it's the virtually surreal quotient of ludicrous
pop cliches being blithely trotted out on the other
twin stages that keeps the Costello collective so
near-languidly amused.

Costello himself views the whole pantomime with a
detachment that arguably typifies his
recently-discovered professionalism. He's adopted his
classic stance for the occasion the Fender Jazzmaster
cradled in his arms, the legs slanted somewhat askew
as per usual but the stance has become totally
unselfconscious and his manner is strictly casual.

As Legs and Co troup onto their own personal little
platform to go through the paces on Bob Marley's "Is
This Love", Costello views the collective girly
primping most sardonically, wondering out loud whether
one of the stickers for his new album "Warning: This
is not this year's model"can be surreptitiously
applied to at least one of the, uh, dancers'
physiques.
Elvis may have been also wondering about a football game on that evening,
Liverpool
playing
Benfica
in a European Cup 3rd round 2nd leg game at Anfield. His precious Liverpool won , with goals by
Ian Callaghan, Kenny Dalglish , Terry McDermott
and
Phil Neal
, and went on to win that competition in May.
http://www.lfchistory.net/viewgame.asp?game_id=1027
The following day it was on to Dublin for Elvis' first show in Ireland.
Earlier in the month Dublin newspaper readers were regaled with this ( featuring an eventual Costello collaborator )
Evening Press , March 1st 1978 ( P.1 on the Dublin edition, p.5 of the country edition).
Weather records tell of a day with a temperature hovering around freezing. A front page of a 'paper from then tells us -
- and a Evening Press page of entertainment on that Thursday , the eve of a national holiday , St Patrick's day, told of Elvis' show , amongst other fun things to do -
Rathmines
was - and remains - an area filled with rented accommodation mostly used by country people, working/studying in Dublin. With the long weekend for the holiday coming up the area would have been emptying. The
Stella cinema
management would have felt safe in deferring , for one night , the considerable charms of
Jacqueline Bisset
in
The Deep
http://www.imdb.com/title/tt0075925/
for a night of 'punk rock' from a hotly anticipated artist .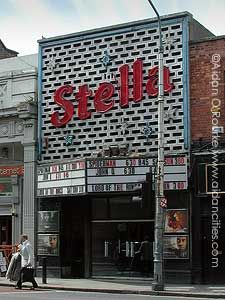 For anticipated he was. Journalists
Karl Tsigdinos
and
Ferdia McAnna
were there and told me of memories of it being the only thing that was being spoken about in music circles in the weeks beforehand. They , and all that were 'hip' , crammed into the venue. Ferdia remembers that the place was 'crammed', people from all over, town and
country. A then 'happening' band from Galway called the
Biros
were especially apparent in the audience, for some reason.
A cinema site -
http://cinematreasures.org/theater/22364/
-tells us -
Seating was provided for 1,283 in stalls and circle levels in what was advertised ( in 1923) as the 'Largest Picture Theatre in Dublin But One'.
Ferdia remembers that the -then- single screen auditorium had seating at an extreme angle , with every one looking down at the stage. The venue didn't have a drinks license so patrons drank at the neighbouring Slattery's bar. Karl seems to remember that an Irish band did a support slot,
Sacre Blue
, he guesses. The
Mickey Jupp
band did support for the later U.K. dates. Ferdia remembers seeing Mickey Jupp in concert in Ireland around that time ('squat man, in the Billy Bremner mode ' he comments) but couldn't swear it was the Stella. Karl remembers seeing Mickey in a Stiff package tour that year , but that was in The Stardust(that place again) in Oct. 78.
A audience recording gives the impression that Elvis 'n co. were delighted to get back in to performing mode, after days of PR activity. You would think they had played the day before , and not after a ten day break and thousands of miles away across the Atlantic. The
'Lipstick Vogue'/'Watching The Detectives'
pairing is especially satisfying , with
guitar riffing and percussion fills that refuse to bow to audience interjection. Elvis was achieving long sought success and was starting to wallow in all aspects of it. As he would say in a
Armed Forces
liner note -
.......the unpleasant character that I felt I was becoming. I had left my family home and was living a
totally willful life with little sense of gravity. I surrendered to temptation, committed selfish acts of
betrayal, and destroyed any possibility of trust and reconciliation in my marriage.
Karl and Ferdia also remembered , in separate conversations , a rare comment onstage from Elvis . Before the last two songs of a 15 song set he says -
We'd like to say this has been a really nice first night on our tour ( audience cheers) - we've just come back from America and it's good to get back to some human beings , after all that shite ( louder cheers )
Considering the goading, confrontational air that, reportedly, permeated gigs later in the tour it would seem that Elvis was suitably impressed with the Dublin audience and felt they deserved better. Perhaps he was recognising elements of the his Irish heritage and taking comfort in same. Or perhaps he just wasn't yet tired and worn down by the rigors of touring.
The recording , crude as it is, does feature a clear enough vocal , explained , perhaps , by what Elvis continues to say -
..also I should explain about not doing a lot of talking , it's cos these microphones are live and I can't get too close to them so before we completely lose our voices we're going to do a tune called Miracle Ma
n
To many of the audience this kind of intensity from a singer must have seemed like something from Mars. The day after the show many of them would have spent their Patrick's night at another 'punk' show at the Project Arts venue. On the bill was a band called
The Hype.
That weekend they would win a recording session in a talent contest and go on to fame and fortune under a new name,
U2.
Beside the Stella ad. in the above entertainment page is an ad. for an awards show the following week , promising appearances by the likes of Joe Dolan and Ray Lynam. Ferdia characterises
that as the kind of gig that no one at the Stella would have gone to. There was definitely a sense of a new audience defining itself and , for many , Elvis' show set the template.
With a setlist common to the time -
http://www.elviscostello.info/wiki/index.php/Concert_1978-03-16_Dublin
- the recording illustrates
Hot Press's Niall Stokes
recent comment
http://www.elviscostello.info/wiki/index.php/Hot_Press,_March_30,_1978
There was a whiff of amphetamine in the air ­ and the live show distilled all of that and unleashed it
in a wonderfully visceral way.
At the time he wrote -
(extract)
http://www.elviscostello.info/wiki/index.php/Hot_Press,_March_30,_1978
..... it was the nearest I've come to pure bliss at
a live gig so far this year. Costello and his band are
just so good.

There was a vibe doing the rounds late last year that
maybe his live gigs didn't match up to the promise of
'My Aim Is True , but don't believe that for a minute.

There's an extent to which he could come a commercial
cropper as a result of his courage as a performer, in
that he refuses to rely on familiar stuff to win the
night. The number of songs in his current set lifted
from his first album is minimal. Consequently his
performances provide a challenge for an audience of a
type which it unusual in the current album-tour
package deal context.

You know the score, where everything is calculatedly
designed to turn over units and more fundamental (dare
I say artistic) considerations can sweet bugger off.

So an audience won't get the usual cosy reassurance
that they know what its all about from an Elvis gig.
And if you want to complain about that, fine. But this
guy believes in carving out new constituencies all the
time, the message being it you can't keep up, drop
out, brothers and sisters.

Plus he's got a great band, which means he can afford
to keep moving where others'd play safe. Which is a
nice bonus for the man himself.

Roll call. And whereas all three partners in the
mastermind's crime sound great, the one that stood out
for me was bass player Bruce Thomas, formerly with
Sutherland Brothers and Quiver incidentally, a man
capable not only of holding down the rhythm end of
things to a fine point, but able also to fill in
openings in the upper register when it seemed that we
might just be about to detect a flaw. He's a really
flexible and often startlingly proficient musician.

That was on the night. But I can well imagine how the
same could apply equally to drummer Pete Thomas and
organist Steve Naieve on any other occasion, both of
whom were mighty impressive fingers on the pulse ,
anyway.

And Elvis came on like a demented rock 'n¹ roll ruler
(about twelve inches long?), who's being attacked from
all sides (who isn't?) and is coming back fighting
(now there's a difference) and with intelligence (now
there's a real difference), great presence, voice,
delivery - the lot.

The overall effect was such that this supposedly
objective observer just had to dance. Well with
classics like Mystery Dance, Red Shoes, Chelsea (buy
the single!), Watchin' The Detectives (magnificent!)
and I'm Not Angry going down, what'd you expect? Hey?

And if you don't know that lot, bud, you're the loser.
Get with it or get left behind. Cos Elvis Costello and
the Attractions are undoubtedly one of the the finest
rock bands treading the boards today.

See, through all the white heat and the intensity
comes a feeling, or a sense, of the real complexity of
human affairs of many shades and hues. Costello gets
down the pain more so than the joy but without
self-delusion or self-pity. With a feeling, in fact,
of unswerving self-critical honesty (and all honesty
involves self-criticism).

Through music, that pain is transformed into joy.
Which, in my terms, is where you really begin to scale
the heights.

Elvis Costello has the power and he's still human-size
enough to give it to the people. You'd be a fool to
refuse.
The following day it was on to Belfast .
As
Kevin Myers
recently commented (
Watching the Door:Cheating Death in 1970's Belfast, A Memoir 1971-1978)
-
Belfast was dreary and cold , a seventeenth-century religious conflict bottled in a late twentieth-century industrial decline , a bleak new experiment in purposeless war.
However , a 'paper that greeted
the traveling musicians -
- tells us

'....Casement Park , in
Andersonstown , took on not one, but 40 shades of
green today as the St Patrick's Day celebrations got
into full swing.

Jigs , reels and
hornpipes echoed around the stands of Belfast's GAA
headquarters as hundreds of people converged for a
festival of singing , dancing and traditional Irish
music.
One of the organisers of
the entertainment programme , Mr Eddie McWilliams ,
said " The fine weather has given us a good start to
the day.
" We have completed
all the last minute touches and we are confident that
everyone will enjoy themselves"
More than 20 bands and
floats assembled at Albert Street before marching the
two miles to GAA headquarters where Ardoyne were to
play St. Enda's in the final of the St. Patrick's Day
football tournament.
The parade was headed
by 12 motor-cyclists from the Dunrod Wheelers Motor
Cycle Club .
Weather records tell of Belfast being a balmy 7 degrees. After nearly ten years of killings , there had been a - relative- lull , although it was little over a month after one of the worst atrocities of the conflict , the 'La Mon restaurant bombing'.
http://en.wikipedia.org/wiki/La_Mon_restaurant_bombing
The only security force casualty that day was in Derry , miles away. However , as an indication of how commonplace death was in the the troubled city , a death in the city of a teenage girl in a , seemingly, domestic situation got mere paragraphs in the following days 'papers.
Looking through the Belfast 'papers , alternative listings of entertainment were available . The Nationalist Irish News had this -
Elvis' Catholic tradition might have been more amused and aware of the different slant in
the Protestant Belfast Telegraph ( earlier in the week admittedly ; the archived edition from March 17 has no entertainment listings )
No coverage , before or after the show , of Elvis 'n co. was apparent in Belfast 'papers. Music fans got their information, a show attender told me , from posters and listing in English music 'papers.
Elvis 'n co were playing in the Ulster Hall.
http://www.ulsterhall.co.uk/
On Bedford Street in Belfast City centre , it's around the corner from the Lower Ormeau Road , dubbed "the murder mile" because of its history of retaliatory attacks between Protestant "loyalist" and Irish Catholic enclaves. Elvis was to comment in a
Armed Forces
liner note -
The origin of "Oliver's Army" is easier to explain.
I made my first trip to Belfast in 1978 and saw mere
boys walking around in battle dress with automatic
weapons. They were no longer just on the evening
news.These snapshot experiences exploded into visions
of mercenaries and imperial armies marauding around
the world. The song was based on the premise: "they
always get a working class boy to do the killing". I
don't know who said that; maybe it was me, but it
seems true nonetheless. I pretty much had the song
sketched out on the plane back to London.
Murals like this were/are a common feature -
http://oldbelfastdistricts.rushlightmagazine.com/
No recordings or accounts have surfaced of the show. The show did host a publicity caper .
http://www.elviscostello.info/wiki/inde ... 1978-03-17
The earlier mentioned show attender
Greg Cowan
of Belfast punk band
The
Outcasts
e-mailed me -
Although memories are hazy of '78 I do remember
that Colin (Cowan) had come up with a cunning plan to
publicise the name of the Outcasts by jumping on stage
with any of the few major artists that were playing
Belfast at that time. I can't remember in which order
it came but during a three month period Colin had
jumped on stage with Graham Parker and the Rumour,
Boomtown Rats and ,of course,

Elvis Costello.



I particularly remember the Elvis Costello gig because
our plan was to push Colin on stage from the front so
it was a complete surprise to us when Colin suddenly
appeared from the rear of the stage and grabbing Elvis
Costello's microphone from him began shouting about
the Outcasts. As this was during the height of the
troubles in Belfast Elvis himself, quite
understandably, went into a blind panic and ran off
stage (for about five minutes). As we later found out
he thought this was some sort of political attack on
him. As the bouncers closed in from the wings to
apprehend Colin he made a stage dive into the mass
crowd who conveniently separated causing Colin to
knock himself unconscious on the floor where we
collected his limp body and spirited him away.

As all major concerts in Belfast at the time were
sponsored by the same company with the same crew of
bouncers, when we eventually did our first major
support with the Clash in the Ulster Hall we must be
the only band beaten up by the bouncers after playing
and ceremoniously thrown out onto the street!
http://www.irishrock.org/ipnw/outcasts.html
http://profile.myspace.com/index.cfm?fu ... d=44220089
And so ended Elvis' first shows in Ireland. He wouldn't play in Ireland again until June 1981 in Macroom , Co. Cork and next appeared in Dublin in Jan. 1982. Belfast would next be visited in June 1983.
Later in '78 , the concert's promoters would advertise -
A year to the day after the Stella show , March 16 1979 , Elvis would play Columbus, Ohio.
For help putting this together thanks to the staff of the
National Library,Dublin
,
Ferdia Mac Anna, Elveera Butler,Karl Tsigdinos, Niall Stokes, Paul Russell and Greg Cowan.
Read about Ferdia's memoirs -
viewtopic.php?f=2&t=5319&p=83764&hilit=Ferdia#p83764
-------------------------------------------------------------------------------------------------------------------------------------------------
Where, you may ask , was I , a Dublin resident , while all this unfolded? Growing up in the suburb of Ranelagh
I was mere streets from the Stella. Being twelve and a half at the time I seem to remember the
Buddy Holly
reference in the preview piece. Reading that Saturday evening 'paper I was probably recovering from the latest ( fruitless) efforts of my school to turn me into a lean, mean killing machine on the cold , muddy rugby pitches. I was/am a big fan of Holly ( he , like me wore spectacles and , unlike me , rocked ; 'nuff said) and would have noted any reference to him.
The evening of the Stella show I was probably watching
The Bionic Woman.
Listings tell me it was the episode where
Max,
the bionic dog, was kidnapped. It was on UTV at eight o'clock so it would have been before my bed time. That was if, in those pre-cable tv times, our aerial was working . I would also have seen it in black and white. My parents didn't get a colour set until Sept. '79 when the visit of the Pope to Ireland warranted such indulgences.