http://www.sheffieldtoday.net/ViewArtic ... ID=1904172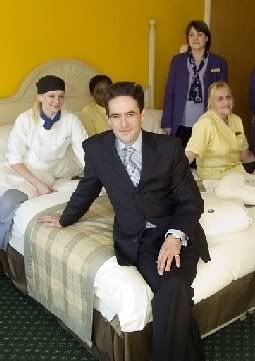 Starry-eyed: Hilton Hotel manager Tom Waldron-Lynch and staff on the famous bed
Starry, starry night . . .
By Graham Walker
( extract)
WAKEY, wakey…rise and shine. Have we got a bed for YOU!
Robbie Williams, Posh and Becks, Shania Twain, Neil Diamond, Ronan Keating and
Elvis Costello
have all slept in THIS bed.
Not at the same time of course.
Oh, and add to that list members of Westlife, Darkness, Blue, Five and Girls Aloud.
It's the massive King Size bunk where all the big names have spent the night, in Room 217, over the past nine years at The Hilton Sheffield.
And we're now giving you the chance to own it - while helping to raise money for needy children in our region.
It is one of the money-can't-buy items going under the hammer during the annual Hallam FM Charity Auction in aid of Help a Hallam Child, tomorrow, Friday, December 1, 9am to 6pm.
http://www.hallamfm.co.uk/Article.asp?P ... &id=298331