Here's how the show's venue looked-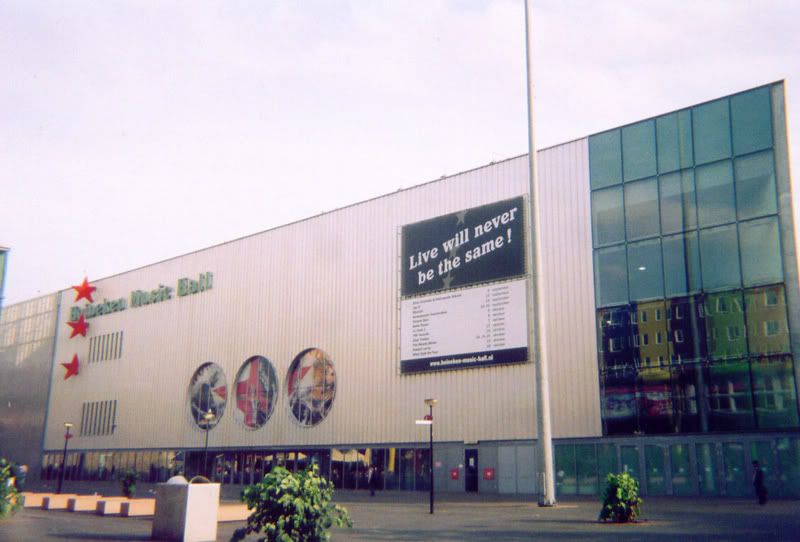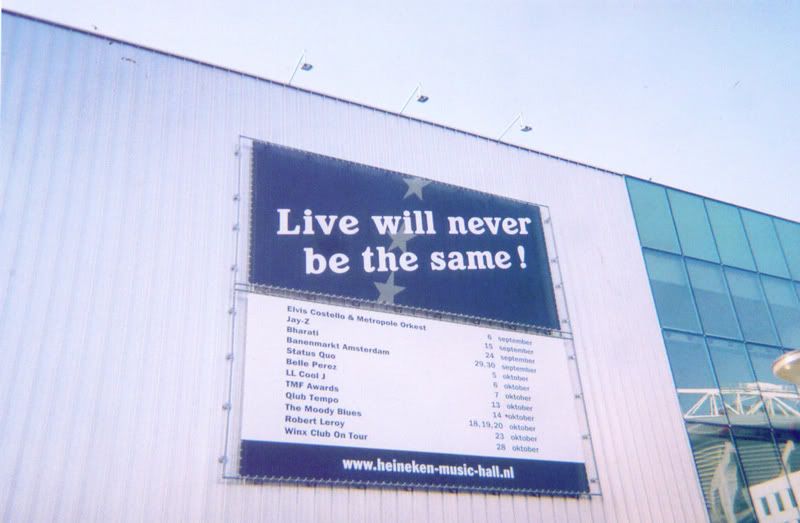 Hmmm... the Quo , The Moody Blues...such riches!
The only one of my concert photos that came out in any way decent was this -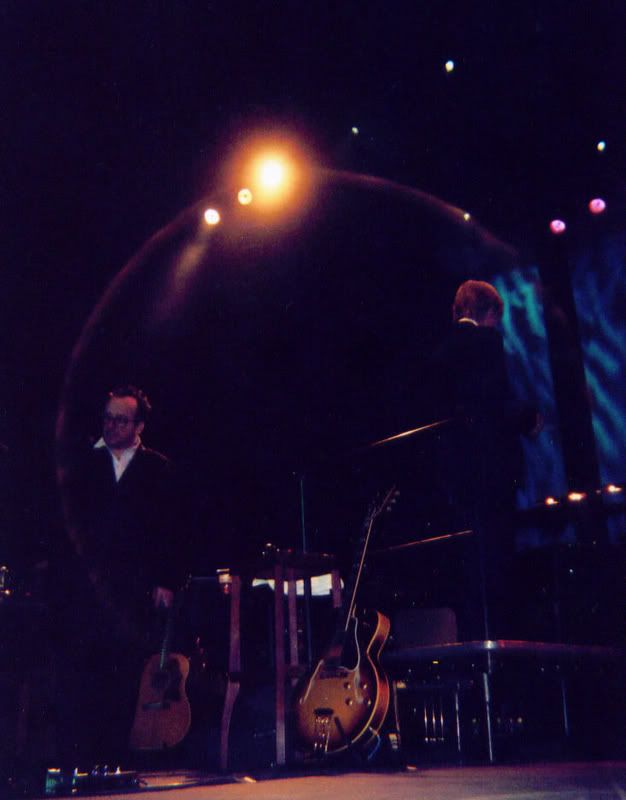 In a certain light he looks like........
I told you about the Wednesday morning I scouted out the venue, not succeeding in getting the all important ticket for the second show. I returned to the venue, about 20 minutes by train from Amsterdam central, at about 5.45. An A4 sign was displayed in the window of the still locked venue
It read
Elvis Costello and The Metropole
Orkest
, September 6 2006
18.30 Deuren open
20.15 1e deel Elvis Costello and The Metropole
Orkest
21.15 Paeze
21.45 2e deel Elvis Costello and The Metropole
Orkest
22.45 Einde show , ' ganze open' ( my hand written note is unclear)
...and a more text in Dutch about something .
I went to a pub in the square outside the venue, getting a outdoor table and ordering a Heineken (medium - I didn't want to be snoring during the gig). After a while I noticed excellent food being served and ordering a omelette and chips. Scoffing this down in the balmy, warm conditions, kids playing in nearby, netted in basketball court, people coming and going from the sporting and electronic goods stores it was no time before I could see the venue was open. Passing over the dessert menu - reluctantly - I was getting the bill when I noticed a couple having a smoke and waiting forone of the now all in service tables. One of them was wearing a Metrople
Orkest
t-shirt. I waved them to my table, asking him if he was with the
Orkest
. He wasn't but his companion told me she was, playing violin. I said how I was looking forward to the show and was hoping to get a ticket for the second one. They suggested I try the box office, having clearly not got the hint that they should invite me, their New Best Friend , to be their guest etc. I thanked them and went into the venue.
I adopted the upfront approach ie. me rabid fan, have travelled barefoot many miles etc. , any chance of a ticket ? That is when I got my turn. There was the usual scene at the desk, the same the world over, where some self important people where doing the eye-rolling, do-you-know-who-I-am routine as they expressed their credulity that they were not on the guest list etc. They were , as usual, sad old hippies with expensive hair arrangements and wearing 'down wiv the kids' florescent clothes and track shoes. My request was, initially, greeted with a heartening response of ' Yes , sir, no problem, my colleague here will sort it out for you'. As I stood aside , waiting for a 'phone call to be made to check something , the next saddo barked at the patient assistant. As this was being taken care of the word came that the' second show was private'
And they couldn't sell me a ticket. This was hastily said, as Next Saddo got increasingly petulant at the assistant daring to pause in her attention to him to tell me. I said thank you and gave up.
I hung around the entrance for a while longer. I was hoping Richard Groothuizen of ECIS (the Holland based Costello fanzine) would spot the 'North' t-shirt I was wearing and introduce himself. I didn't know what he looked like and didn't have a mobile 'phone with me so had arranged this point of identification. Alas he never found me so I went in.
I had thought my seat was in the front row of the balcony. I wasn't - it was front row , literally at Elvis' feet. Indeed the balcony was not opened that evening, with most of the back section downstairs empty also. I adjusted to people smoking indoors , something not allowed back home , but it wasn't too bad. Then I got a tap on my shoulder and it was Sweetest Punch who had spotted me somehow. He and Mrs SP were sitting the row behind me. Excellent!
We watched Milo doing things with Elvis' guitars, bringing out glasses and jugs and bottles 'n towels to Elvis' stand and Steve's piano. A one point a older lady, using a stick, accompanied by a very McManus looking male, came from the stage side , walking around by us at our level and proceeding to , I presume , a side seat.
The show proceeded as described elsewhere, starting at about 8.20. At the interval we were late to the bar. Then I realised it operated on a disc system, to be purchased from a machine nearby. In the end it was while before we got chatting. A stall selling merchandise was playing a DVD of the '04 North Sea Jazz Show. We were discussing the Belgian education system when I realised the sound of the music seemed louder than usual...the show had re-started!
We dashed in, learning, at the song-end, that we had missed Still and most of Green Shirt. Drat!
After the show it was time for another quick drink and then the 'Punchs had to leave to drive back to Belgium. I remembered Verbal's suggestion here (or was it a PM?) about meeting at the stage door and was greeted by him and friend ( first time we've met , they still spotted me.....the' North' t-shirt maybe?) and we had our encounters with Steve 'n Elvis. The comment about Dublin may seem harsh but I'm now inclined (deluded enough?) to think it was a comic riposte from a tired artist who had just been fending of banter about not playing in the U.K. Y'know , like, if I'm not playing the U.K. I could hardly be playing Ireland, that sort of thing. Whatever.
Then on the late train and so on.
The next day, after a very late start and a lazy day of aimless tram rides to see the city and environs ( I had a three day pass and a great book, Joe Boyd's White Bicycle) and more eating I got back, after a late afternoon nap ( I'm soooo old) , to the venue , arriving there at 6. The same sign was up in the venue. I sat nearby, intending to find out quickly if I had any hope and go back to town for a movie ( or whatever....) .
I sat on bollard type thing (see above photo) and read a U.K 'paper. Looking up I realised Milo was walking towards me, eating a ice cream cone. I looked down again, wondering if he had spotted me. He was with Steve the evening before when I gave him my name and he asked me if I was 'with that website'. Elvis appearing and having to dash to get his autograph etc abruptly curtailed my positive response to that. Had Steve screwed up the piece of paper and told Milo I was a stalker/saddo/intrusive reptile etc, I wondered. I looked up again and Milo had turned around and was walking away.
The venue opened and I approached the box office. I explained how I knew it was a private show but I had spoken to one of the musicians the evening before and he'd see what he could etc. They didn't have a list yet they told me ............but they were actually selling a few tickets for the show. I said 'Gimme One!'.....or something like that. So I don't know if Steve did do something or whatever.
Skipping for joy (well , almost) I headed out to find a public phone , to let Martin back in Dublin know. A barman told me there was one at the other side of railway line. Heading there, around by the venue, I nearly ran into Milo again. This time he was just standing there, pen in hand , looking through a spiral notebook. I passed him, proceeded through the building site under the railway line and found the phone. Coming back I'm wending my way through the fenced of passageway through the site and who should be ambling towards me but, you guessed it, Milo. Whistling nervously, I pass him (notebook closed, preoccupied look on face) and walk smartly back to the venue.
The balcony seat was two rows from the back. A more extreme contrast with the night before couldn't have been more possible. It was like going from up-close pan scan to windscreen on a TV screen. It was a much older audience. Joking aside, there were some really elderly people around me. Remembering the volume level of the night before I was curious about their reactions. They also smoked a lot. Without any noticeable air conditioning I really noticed the clouds of smoke billowing up.
The couple next to me were Dutch resident Italians. The last show they had seen was Eros Ramozatti in Rotterdam. They hadn't seen Elvis before, didn't really know him ( 'He is English?' I was asked), had merely been attracted by the coupon on their credit card bill. Curiously enough they had paid exactly the same as I what I had paid for each night, c. €49 each. The only 'special offer' aspect that seems to have applied was exclusive access to the show. They had arrived at the venue to find that they (and the couple to the other side of them) had been assigned separate, non-pairing, seats downstairs. They had objected and had been offered paired seats in the balcony. That might explain why, though the back few rows of nearly full balcony were, eventually, nearly full you could see a few individual empty seats downstairs.
The show was, as I've told you, great. Afterwards I headed around to the stage door , to find I was the only one there.
Orkest
members appeared, some smiling at me, going to a bus. As time passed I was getting anxious about making that last 12.05 train to Amsterdam. Come 11.55 two swish cars mount the pavement and park by the door. A man appeared and told the drivers who is getting Elvis 'n co. and who is getting Jill Taylor (Elvis' manager) and co. Eventually they all appear out together . I managed to catch Steve's attention. He signed my ticket and asked me 'So, what did you think of tonight's show?' . It was all too hectic to clarify whether he recognised me and knew I had seen the previous show. I didn't tell him about buying the ticket, just in case he had put name on a list or whatever. I babbled something about how I wasn't going to say it was better because last night was great but tonight's show was tighter, more focused etc. In my nervousness I tried to be light-hearted and said ' You could take that show to Vegas!'. Steve frowned/smiled at me. I could see Elvis was going to get into the car and headed over to him.
He agreed to sign my ticket. The night before he had used a black marker Verbal had with him. Tonight I had a very thin, felt tipped one. Elvis' couldn't get it to write. Eventually he got a bit of a scrawl out of it on my ticket. Nothing came out when he tried to sign the MFFB Cd sleeve. 'Y'see , that's what comes from being leftie ' he said . 'Ah well, at least it (the sleeve) is engraved'. I thanked him, said 'great show' and he said 'yeah', turning away to his car.
I then ran like hell and got the train with a minute to spare.
Milo was not there to wave me of.