Posts: 3450
Joined: Sat Apr 03, 2004 5:49 am
Location: Belgium
Since you put me down, it seems i've been very gloomy. You may laugh but pretty girls look right through me.
---
Posts: 3450
Joined: Sat Apr 03, 2004 5:49 am
Location: Belgium
Since you put me down, it seems i've been very gloomy. You may laugh but pretty girls look right through me.
---
---
---
Mike's photos & comment -
Watch your step started it all off, vocals initially measured blossomed through the evening. Appreciative crowd with standing ovations interspersed. High points - - a new song not for Face in the.crowd apparently - Stripping Wallpaper (though that might not be its name) - great night privileged front row seat.
---
I think the photo is a old one, not from last night.
https://www.nrc.nl/nieuws/2017/03/09/bi ... 5-a1549462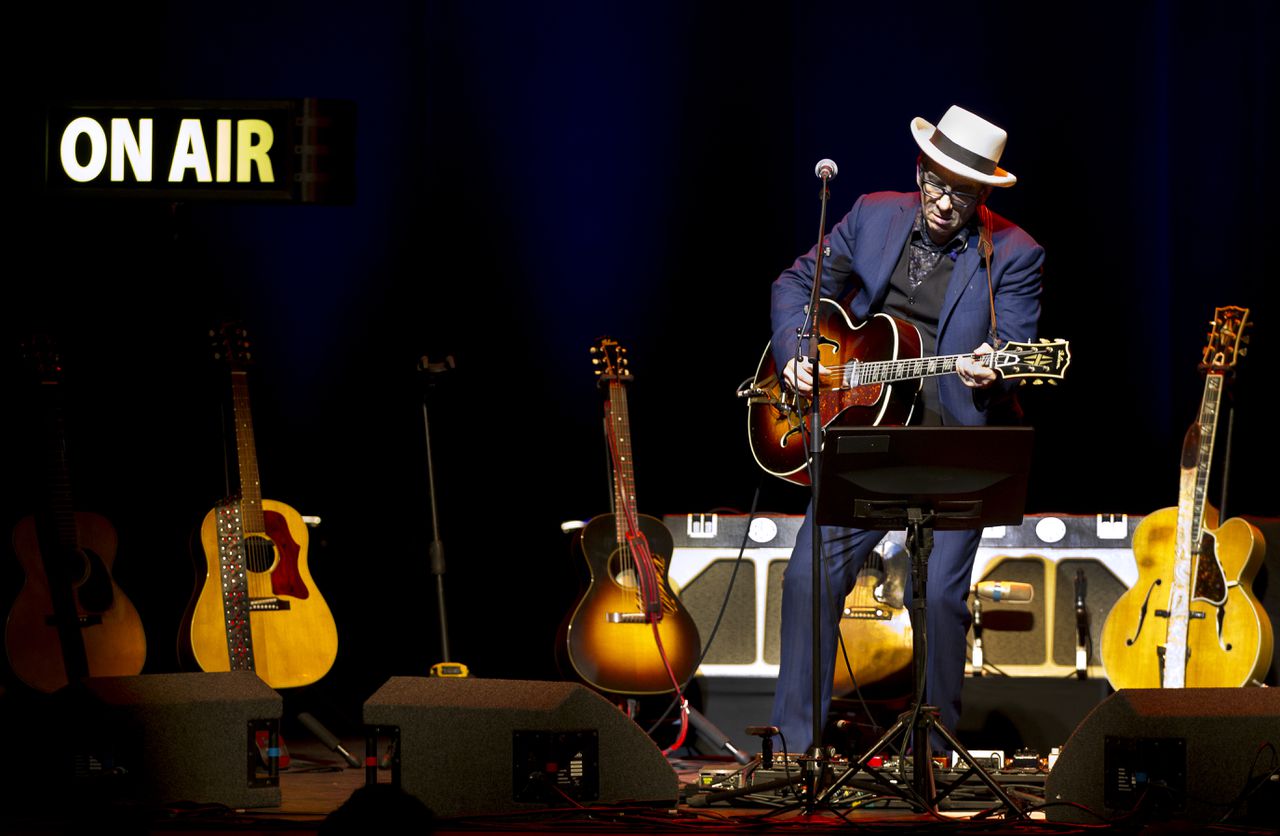 Foto Paul Bergen/ANP
Bij opgewonden Costello voltrekt zich een wonder achter de vleugel
Elvis Costello kon in Carré bijna niet stoppen met het spelen van parels uit zijn brede repertoire. "Heb ik jullie mijn flamenco-album al laten horen?"
Hester Carvalho
9 maart 2017
De mooiste stem, de mooiste liedjes, de grootste honger naar muzikale afwisseling – al ruim veertig jaar, op dertig albums, strooit Elvis Costello zijn maniakale creativiteit in het rond. Dat leidde tot een repertoire dat in reikwijdte door weinigen wordt geëvenaard, bleek gisteravond in een uitverkocht Carré, Amsterdam, waar hij bijna niet kon stoppen met weer een afwijkende versie van weer een parel. "Heb ik jullie mijn flamenco-album al laten horen?", zei Costello tenslotte grijnzend.
Achter hem stond een groot ouderwets tv-toestel, waarop foto's en filmpjes te zien waren. Het akoestische solo-optreden was losjes opgebouwd rond het thema van nostalgie; Costello plukte anekdotes uit zijn eigen geschiedenis als beginnend muzikant en die van zijn vader, ook zanger. Zo vertelde hij over zijn eigen, vroegere, drankmisbruik, en over zijn vader die optrad voor de BBC-tv. De driejarige Elvis werd eens aangetroffen met een schroevendraaier achter het tv-toestel, bij een poging zijn 'vader uit de tv te halen'.
Nauwelijks herkenbaar
Hier was Costello de licht opgewonden gastheer in zwart kostuum en rode hoed, die rondrende tussen acht gitaren en een vleugel. In het begin ging de opwinding ten kostte van de muzikale uitvoering. Hij zong te hard en de melodie werd zo opgerekt dat nummers als 'Accidents Will Happen', in hun 'akoestische punk'-versies, nauwelijks herkenbaar waren. Maar aan de vleugel voltrok zich een klein wonder. Costello temde zijn furie voor een licht en teder 'Shipbuilding' en een huiveringwekkende bluesversie van 'Can't Stand Up For Falling Down'. Er waren ook aantrekkelijke, onbekende liedjes als 'Blood & Hot Sauce', van een eerdaags te verschijnen musical. Daarna zong hij het aloude 'Alison' a cappella, en leefde zich tenslotte uit op een onstuimig 'I Want You', op een elektrische gitaar met zoveel schrijnende akkoorden en dissonanten dat het leek alsof de geest van Sonic Youth in hem was gevaren.
Google translate -
At unfolds excited Costello a miracle behind the wing
Elvis Costello was in Carré hardly stop playing pearls from his wide repertoire. "I have you all to hear my flamenco album?"
 Hester Carvalho
 March 9, 2017
The most beautiful voice, the most beautiful songs, the biggest hunger for musical variety - more than forty years, thirty albums, Elvis Costello scatters his maniacal creativity around. That led to a repertoire that range is matched by few, last night turned into a sold out Carré, Amsterdam, where he almost could not stop again a different version of another pearl. "Did I show you all my flamenco album belong?" Costello finally said, grinning.
Behind him stood a large old fashioned TV set on which photos and videos were shown. The acoustic solo performance was loosely built around the theme of nostalgia; Costello picked anecdotes from his own history as a beginning musician and his father, also a singer. He talked about his own past, alcohol abuse, and about his father, who acted for BBC TV. The three-year Elvis was once found with a screwdriver behind the TV, when attempting his father to pick up from the TV. "
barely recognizable
Here Costello was slightly excited host in black suit and red hat, running around between eight guitars and a piano. In the beginning, the excitement at the cost of the musical performance. He sang too loud and the melody was so stretched that songs like "Accidents Will Happen" in their "acoustic punk' versions were hardly recognizable. But took place on the wing is a small miracle. Costello tamed his fury for a light and tender "Shipbuilding" and a chilling blues version of "Can not Stand Up For Falling Down '. There were also attractive, unknown songs like "Blood & Hot Sauce," a forthcoming shortly be musicals. Then he sang the old 'Alison' a cappella, and finally lived out a boisterous "I Want You" on an electric guitar with such poignant chords and dissonances that it seemed as though the spirit of Sonic Youth in him had sailed.
---
---
Posts: 2821
Joined: Thu Aug 21, 2003 2:57 pm
---
"Blood & Hot Sauce" and many more songs @theatercarre last wednesday. And @ElvisCostello is very a funny man between songs hahaha.
https://twitter.com/Yvonne1104/status/8 ... 0596918272
---
setlist :
1. Watch your step
2. Accidents will happen
3. Indoor fireworks
4. Church underground
5. Stella hurt
6. Everyday I write the book
7. Shipbuilding
8. Deep dark truthful mirror
9. Stripping paper (played live for the first time)
10. A face in the crowd
11. Walkin' my baby back home (aborted)
12. Wave a white flag
13. They call me mrs. Lonesome
14. Toledo
15. Veronica
16. Alison (unplugged)

encore
17. Blood & hot sauce
18. No man's woman
19. I can't stand up for falling down

20. Pump it up
21. Good year for the roses

22. New Amsterdam
23. Jimmie standing in the rain / Brother, can you spare a dime ?
24. Vitajex
25. Almost blue
26. She
27. (What's so funny'bout) Peace, love and understanding ?
28. I want you

filip
---
---
Return to "Elvis Costello General Discussion"
Who is online
Users browsing this forum: Google [Bot], Majestic-12 [Bot] and 38 guests